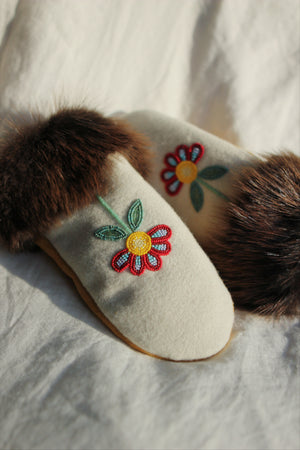 weaving together past, present and future traditions
As a fourth generation beadwork artist in my family, practicing beadwork allows me to carry on our traditions, while continuing to learn, grow, share and teach in the process.
My work combines high quality materials such as vintage beads, smoked moose hide and sterling silver/gold findings - while also making use of materials I have on hand, trading materials, harvesting materials from the land as well as buying beads and materials secondhand.
Heavily inspired by those who came before me, my designs reflect and honour traditional beading techniques combined with my love for the land and my personal experiences and relationship with it, and my passion for art, design and creating.
Thank you / kinanaskómitin for stopping by & supporting my art!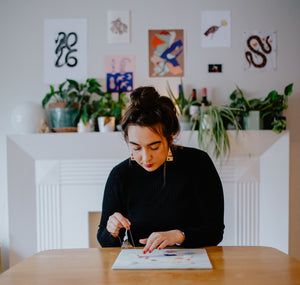 About Bronwyn
Bronwyn is a mixed Cree-Métis / settler artist from Treaty 1 territory in Winnipeg, Canada. She creates a variety of unique pieces such as earrings, pins, moccasins, mittens and more that combine beadwork, leatherwork and sewing.
learn more